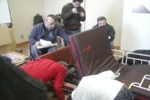 WHAT CECAP IS

Comprehensive Evaluation Center of Assistive Products (CECAP) is an organization which aims to evaluate assistive products (or assistive technologies) ensuring safety and usability in a comprehensive manner. We have three modes of evaluation.
1. Clinical evaluation
It is done by experts such as Physical Therapist, Occupational Therapist, Professional advisor in welfare policy, Experienced Engineer for assistive products, Rehabilitation Engineer, and User of assistive products having rich opinions in them.
2. Monitoring evaluation
It is the evaluation according to a trial use of assistive products by persons who really need the products.
3. Engineering evaluation
It is the evaluation based on the engineering tests.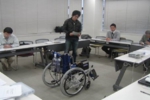 HOW CECAP IS AUTHORIZED

CECAP is one of six authenticated evaluation agencies approved by the Association for Technical Aids (ATA) established by the Ministry of Health, Labor and Welfare (MHLW) to perform "Authorized Clinical Evaluation of Assistive Products (ACEAP)" which is currently its major activity. Different from 4 agencies out of 5 others, it is a private organization that can offer evaluation programs according to user requirements within third party norms.
HOW CECAP WAS DEVELOPED

CECAP was established in 2009 as an authorized agency for MHLW as mentioned above from the beginning. It has been collaborated with relevant organizations such as Association of Occupational Therapist, Physical Therapy association, the Group of Handicapped Persons, and various other groups including Oyama National College of Technology, which is famous for its ability in Robocon(http://tanack.la.coocan.jp/).